Pro Boats
553 w. Covina Blvd.
San Dimas CA US 91773
909-599-0531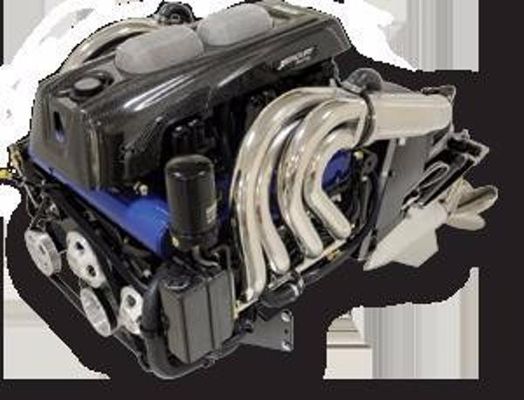 2024 Mercury Racing SternDrive 565HP Package w/ Bravo-1 XR-SportMaster
N/A
Make
Mercury Racing SternDrive
565 HP with Bravo-1XR/Sportmaster  
                                    Shown with Tail Pipes & Propeller Options  
We are located in Southern California, U.S.A., and per Mercury Marine Policy, can NOT ship New Mercury Marine Racing engines. 
This engine can only be installed in a U.S. registered vessel.
The selling dealer is also responsible for engine installation.
  Shown with  Tail Pipes & Propeller Options                   
565/Bravo-1XR-Sportmaster. •8.7 Liter,with CARB Certification, multiport fuel injected V-8 engine features stroked and balanced crankshaft for maximum displacement and performance. •Cast iron cylinder block precision CNC machined to Mercury Racing's specs. •Forged 4340 steel, fully machined and shot-peened Mercury Racing connecting rods. •Forged aluminum pistons, designed by Mercury Racing, for maximum strength and durability. •Mercury Racing aluminum cylinder heads, designed exclusively for The 565, feature optimized valve angles for improved air flow, yielding enhanced power & torque. •Multiport fuel injection system features twin electronic throttle bodies, similar to the 1350, for enhanced air flow and power. •One coil per cylinder for the ultimate in engine ignition management. •Broad torque band for enhanced hole shot, unprecedented mid-range punch and consistent pull through the top-end engine rpm operating range. •Digital electronic throttle and shift for smooth, "Zero Effort" operation. •Two microprocessor control modules. The engine propulsion control module (PCM) optimizes fuel and spark control for each cylinder independently, enhancing engine running quality and performance. The transmission control module (TCM) is dedicated to digital shift management for the Bravo XR drive. •Equipped with a high pressure electronic fuel pump, fuel cooler and a low pressure mechanical fuel pump to combat vapor lock. A thermostatically-controlled, high-capacity oil cooler raises engine oil temperatures faster and keeps them more consistent. •Engine Guardian monitors engine functions to forewarn of possible problems that could lead to engine damage. •Closed-cooling system features five-year coolant for reduced maintenance and increased corrosion protection. •90-amp (1269-watt) charging system. •One year limited warranty for recreational boating. Specifications; Crankshaft-rated Horsepower:565 (421 kW) Full Throttle RPM Range:5000-5400 Displacement: CID/Liter533/8.7 Bore: (in/mm)4.466/113 Stroke: (in/mm)4.25/108 Compression Ratio:8.7:1 Cylinders: V-8 Alternator: (amp/watt)90-amp (1269-watt) Controller: 1 X PCM; 1 X TCM Fuel System: Sequential Fuel Injection Fuel Requirements: 89 Octane Minimum (R + M)/2 Drive Unit: Bravo One XR Sport Master (Std. or Short) Gear Ratio: 1.35:1, 1.50:1 Length: (in/mm)34.2/869 (Transom Mount to Front of Engine) Width: (in/mm)33.8/858 Height: (in/mm)26.9/684 (From Crankshaft Centerline) Weight: (lbs/kg)1201/545
MSRP: $75,585.00
*Price, if shown, does not include government fees, taxes, additional equipment, installation or any finance charges (if applicable). Final actual sales price will vary depending on options or accessories selected.
NOTE: Models with a price of "Request a Quote" are always included in a $0 search, regardless of actual value.
Specifications
Fuel Induction System
Sequential Fuel Injection