Pro Boats
553 w. Covina Blvd.
San Dimas CA US 91773
909-599-0531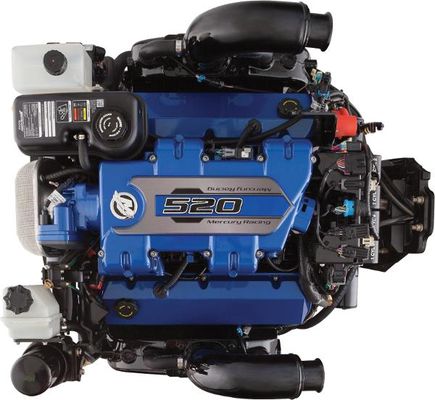 2023 Mercury Racing 520 CC/DTS Engine Only
N/A
520 Race Engine Only with 2-Year Mercury Marine Warranty. 
We are located in Southern California, U.S.A., and per Mercury Marine Policy, we can NOT ship New Mercury Marine Racing engines.  
This engine can only be installed in a U.S. registered vessel.
The selling dealer is also responsible for engine installation.
520 CC Engine Only for DTS (Shown with optional Sterndrive) HIGH-PERFORMANCE STERNDRIVE FOR THE MASSES. Mercury Racing is proud to introduce the latest addition to its high-performance sterndrive family: the 520. The naturally aspirated engine provides recreational boaters a cost effective power option that fits nicely, in both value and performance, between the MerCruiser® 8.2L MAG HO and Mercury Racing's 525 EFI. The low-cost sterndrive features Digital Throttle & Shift and is backed by an unprecedented two-year factory warranty. The 520 shares the same CNC machined cylinder block used on its MAG HO cousin and Mercury Racing's 502 cubic-inch-based sterndrive family. Mercury Racing enhanced the 520's power and torque by increasing the cylinder bore size for an additional 21 cubic inches of displacement to 523-C.I.D. (8.6 L). The larger displacement, combined with Mercury Racing cylinder heads, multiport fuel injection and an electronic throttle body results in nearly 100 additional horsepower over the 430 h.p. MAG HO. All of this power comes from 87 posted octane (R+M)/2, (91 RON) global pump gas. The 520 complies with both EPA and CARB exhaust gas emissions limits. 520 EXCLUSIVE FEATURES: • 8.6 Liter multiport fuel-injected V-8 engine features a premium forged micro alloy crankshaft, induction hardened and precision balanced for maximum performance. • Precision CNC cast iron cylinder block features large 4.560" cylinder bores for enhanced power and torque. • Broad torque band for enhanced hole shot, unprecedented mid-range punch, and consistent pull through the engine rpm operating range. • Closed-cooling system features five-year coolant for reduced maintenance and increased corrosion protection. • The engine propulsion control module (PCM) optimizes fuel and spark control for each cylinder independently, enhancing engine running quality and performance. • Engine Guardian System monitors engine functions to forewarn of possible problems that could lead to engine damage. • The thermostatically-controlled oil system ensures faster oil warm up. The high-capacity cooler maintains good oil temp under all operating conditions. • Digital Electronic Throttle & Shift for smooth "Zero Effort" operation • Optional Bravo One XR, Bravo One XR Sport Master and Bravo Three XR drives with electronic shift control. • A total of 11 engine color options available. • Two year limited warranty for recreational boating.
MSRP: $39,405,00
*Price, if shown, does not include government fees, taxes, additional equipment, installation or any finance charges (if applicable). Final actual sales price will vary depending on options or accessories selected.
Specifications
Stock #
520 Race Engine Only
StockNumber
520 Race Engine Only